Admit it, home decorating can be expensive. If you want to spruce up your living space without breaking an arm and leg, cheap wall decals are here to your rescue.
We are giving you ten of the best discount wall decals under $25 that will make homes striking and keep wallets intact.
Cheap wall decals are not hard to find. They can be found anywhere. All it takes is a little digging to find the best deals.
10 Stylish and Cheap Wall Decals



Cheap wall decals are not just for walls, they are meant to be used on laptops and tablets as well. These cheap wall stickers look like paint on your device making it seem like they are crafted by a professional artist.
Who is this someone hiding in your mirrors, walls, fridge and even in your toilet bowl? Sticking this cheap wall decal will add pizzazz and mystery to any part of your home that will keep you grinning all day long.
Just Married Wedding Sticker ($16)
This decal will make your "I Do's" even sweeter. You may stick it on your car instead of the traditional flowers or install it in your walls and windows. Wherever you decide to place it, you will surely remember your special day.
Flock of 12 Butterflies Decal ($19)
Butterflies are a symbol of freedom and transformation. You can bring that vibe inside your home by sticking these cheap wall stickers. Watch them fly across your walls and be one with nature.
Set of 20 Stars Wall Decal ($19)
Who doesn't love looking at stars? This set will turn any area into a celestial space. Sticking it on your baby's nursery will truly keep your little one mesmerized for hours. Stick it on your hallway walls and you've got an instant wall decor that's one-of-a-kind. Plus, you can arrange each star the way you want to, perfect for unleashing the Picasso in you.
We know love makes the world go round. So why not create a warm home by installing this wall decal. Not only will it bond the rooms together with love but the people inside will also feel the love in the atmosphere.
Birds flying out of a cage in your home? Sounds too good to be true? Well, these discount wall decals will make it possible. Your walls will come to life setting a new mood. Plus, you don't have to feed them or clean their cage. How great is that?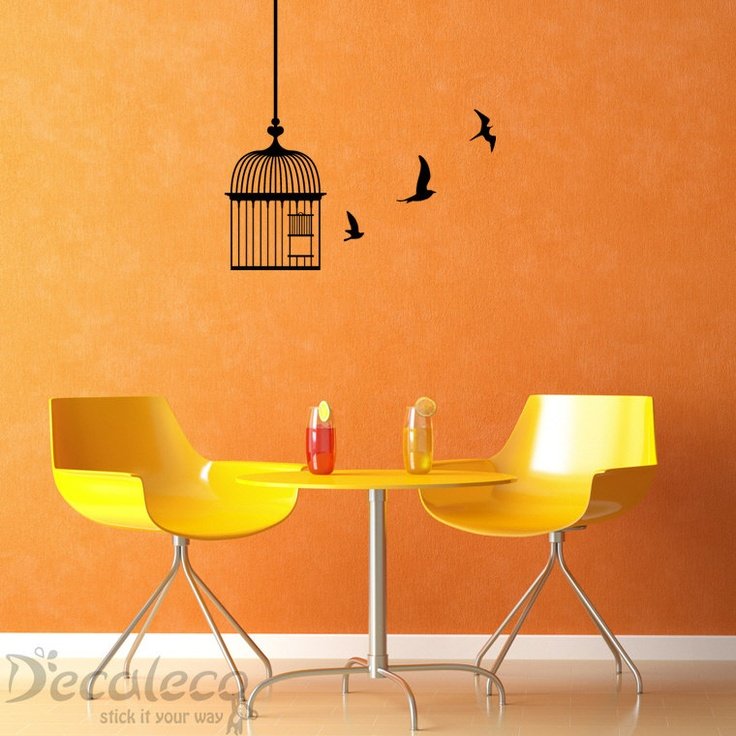 Bring peace and tranquility inside your home with Artistic Yin Yang wall sticker. It's simple, modern and very zen at the same time.
Funny Things – Dr. Seuss Quote ($25)
Add a dose of humor into your home with this Dr. Seuss wall quote decal. You can stick them anywhere, from your bedroom, kitchen to your living room. This will serve as a reminder for everyone in your home not to take life too seriously and that laughter is always the best medicine.
Want to highlight your family photos and your best memories? This set of 3 photo frames cheap wall decor stickers are the perfect solution. They're cute and colorful pieces. Once you place them on your walls, we guarantee you; they will be the center of attention!
We still have a lot of wall decals under $25. If you are wondering where to buy wall decals, look no further and check out Decaleco – the home of affordable, quality-tested, beautiful cheap wall decals!
Have a blast spurcing up your home!
Tags: budget, butterfly, cheap, wall quote
What They Say…
Very fast shipping! Can't wait to put it up! Already…

Thank you! I used the butterfly decals to dress up…

WOW! Love it, shipped in an awesome timely manner. Excited…

Fast efficient delivery. Thanks so much I will be a…

Great product at great price, with super-fast shipment!

The wall map was a great addition to our kids…

Stuck on my wall perfectly with no mistakes!

Arrived earlier than I expected. Decal was great quality and…

This ba gua decal worked perfect for me. See my…

Happy experience, good communication, quick post. Thanks heaps! Looks great…

What impressed me the most, though, was the seller. He followed up with me post purchase to ensure I was happy with everything. I liked it so much I placed two additional custom orders with him. Pleasure to do business with!

Ben was extremely quick to respond, easy to work with and once my order was placed I received it within days. It was an awesome experience! Thanks Decaleco!

Good quality product, fast shipping!!

Decaleco was great to work with! We ordered a custom…

Unbelievable! I had this decal less than 24 hours after…

Love it! Fast shipping and good communication as well.

I could not be more pleased with the custom decal…

Wonderful quality decal which was very easy to apply. Looks…

Excellent item, VERY fast service. Seller was very communicative throughout…